---
NOTICE: regarding Gail Phillips (President of DOTC)
Gail's surgery was successful and she is back on duty as our club's president. Thank you all for your thoughts and prayers.
---
We're Back!!!! 
February 8, 2022
All DOTC classes will resume on Wednesday, February 23 at our regular times.  Whatever classes you were part of, prior to the winter break, have 3 more meetings.  Hopefully, you have all continued practicing skills with your dogs, while we have been "dark".   Basic folks, if you have misplaced the homework sheets you were given, let me know so that I can send them to you, again, so you can begin reviewing those skills in preparation for returning to class on February 23.
As of this writing, the DOTC Board has voted to continue requiring the wearing of masks while in the buildings.  The Carroll County Agriculture Center is still requiring mask wearing in their buildings.  The Governor has stated that, while the mask mandate has been lifted, small businesses may still require masks.  In the interest of keeping all of our members safe, we are requiring masks, in the buildings, until further notice.
Weather permitting, Session 3 classes will start March 16 (Basic Class Orientation will be March 9th).  Please be sure to send your class choice forms (or give them to her at class) to Cleo Curry, ASAP.  Some classes, like Scent Work, are limited to 3 dog/handler teams.  Rally Run Throughs will also be limiting the number of teams that can be taken at each hour. The class schedule for Session 3 is attached, with this letter. Remember, dues paid cover you for one class with one dog, each session.  Additional classes, and/or additional dogs cost $50/dog/class.  With a dues-paid adult member, all Junior Handlers train for free.
For folks interested in Scent Work, Helen Grant has informed us of a "run through" opportunity for Scent Work.  Canines at Training School (info@canines At Training.com) is offering a Scent work run thru on Sunday, February 27, 2022 starting at 10 am.  They are offering Containers, Interior and Buried at the Novice and Advanced level for $4 a run. Contact them, directly, for more information, if you are interested in participating in this event.
Our annual Obedience and Rally trials are fast approaching.  Many hands make light work.  We really, really, really need helpers for Saturday, March 19, starting at 8:30 PM to set up for the Sunday events.  We have about 800 mats to lay out, for the 4 rings, as well as the other tables, etc. to make the day a success for all involved.  If anyone knows of any youth who need service hours for graduation, we will happily sign any paperwork needed.  We will also need help to disassemble the rings on Sunday afternoon, after the events.  Please email President and Trial Chair, Gail Phillips (gail.m.phillips@comcast.net) if you are willing to assist with these events, in any capacity. (If you have already done so, thank you!)
After that, we have 2 days of FastCAT events, coming in April.  Again, we will need help with set up the day before, and help running the events for April 14 – 15.  Please email Gail if you can help with any of that.
Wednesday, March 30, will be the next General Meeting.  That night, only the Basic and the Puppy classes will meet.  The meeting will start at 7:30 so that those folks may also attend.  I (Gail) am hoping we will have a presentation on "Reading Your Dog's Body Language".
Hopefully, you are all safe and well and ready to resume meeting!
See you, soon.
Gail
Gail M. Phillips, President, The Dog Owners' Training Club of Maryland, Inc.
---
Classes for Session 3 will start Wednesday, March 16. 
Attention DOTC members (and potential members):  It's time to sign up for Session 3 classes.  Check out the offerings on the Session 3 Classes Offered chart.   Decide which class(es) you want to take.  If your dues are paid for this "school" year, just send the class choice form to Cleo Curry (or bring it on Wednesday evenings to Cleo Curry or Gail Phillips).  If  you are only taking one class, there is no money due.  Your annual dues entitle you to one class, each session, with one dog.  If you are wanting to take additional classes and/or train additional dogs, that fee is $50/dog/class/session.
Please note, Orientation for Basic classes will be on March 9th.
If you are training for the first time with DOTC, your first 8-week session will cost $120. 
If you decide to join the club, AFTER taking the Basic class or completing your first 8 week session, please fill out the Registration forms on this site,  and send them with your pro-rated dues for 1/4 of the year ($40) as well as your class choice form.  You may also give the forms and fee to Cleo or Gail on Wednesday evenings.  Remember, your dues entitle you to one dog in one class each session.  If you want additional classes, or to train additional dogs, that is an extra $50/dog/class.  Junior Handlers train for free, if an adult in the family is a dues paying member. 
If you have any questions, feel free to contact Cleo (cleocurry@msn.com) or Gail Phillips (gail.m.phillips@comcast.net).
Any questions about classes and registration, please call Cleo: 
     410 – 963 – 0446
Session 3 Class Schedule: 
New Registration Forms: 
DOTC 2021-22 Registration Form
---
August 2021 DOTC Newsletter 
---
DOTC Farm Dog Certification testing videos
15 November 2020
---
Attention DOTC Members and Friends… 
November 9, 2020 Letter
It is with great regret, and out of an abundance of caution, that I need to inform you that the Board of Directors of The Dog Owners' Training Club of Maryland, Inc. has decided to cease classes for the immediate future, due the uprise of COVID-19 cases in our region.
We chose to consider the health and safety of all of our students and instructors in making this decision. The Board will continue to meet every month. We will re-evaluate if/when to resume classes, after the 1st of the New Year. Any member is welcome to join the Board meeting, with the understanding that all may participate in the discussion, but only Board members will vote on any motions that are made. Please contact President, Gail Phillips, to get the ZOOM invitation. The next meeting is scheduled for Sunday, December 6, 2020 at 7PM.
It was also decided that our Instructors will be available to their students to answer any questions moving forward. Contact information will be provided to our members.
Because they are primarily outside events, our upcoming Farm Dog Certification Test and FastCAT events are still a "go". If you are available to volunteer for either of those events, please notify Gail. As of this time, the March 21, 2021 Obedience and Rally trials are also still a "go". We will need lots of help to set up, the evening before, and the day of the event.
Please keep watching our Facebook page (DOTC4dogs) and our website (www.dotc.org) for more information about our special events and future classes. Please, keep working with your dogs, stay safe, and stay well.
          Gail M. Phillips, President, The DOTC of Maryland, Inc.
---
Of Interest…
TBD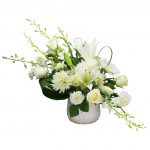 It is with a very heavy heart that DOTC must share the news that our member, instructor, friend, Mel Volkert, passed away this afternoon. There are no plans for any service, at this time. Please join us in praying for comfort for his widow, Carolyn, and the rest of his family and friends.
This photo is of Carolyn and Mel (far left) being honored in 2017, with the Perpetual Trophy, affectionately called, "The Monster". The recipient(s) are voted on by previous winners.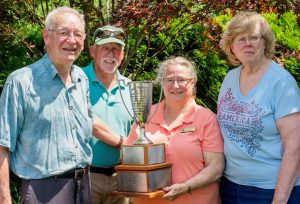 It is in recognition of exemplary service to the club, often in a "behind the scenes" capacity. It was presented at the Annual Awards Program/Picnic by Training Director, Adam Willie, and President, Gail Phillips.
NEW CLASS: Introduction to Scent Work taught by Debbie Malone.  This course is designed to teach you and your dog to independently search for objects for a reward.  This Prep Course lays the foundation to introduce odor for competition in AKC Scent Work Trials.  Weeks 1-6 are spent developing the dog's drive to search.  Weeks 7 & 8, the dog is introduced to Odor. Depending on the dog's drive, Odor may be introduced as early as Week 6.  The course focuses on containers only. (For more details about this exciting new dog sport, see the AKC website.)
Do not feed your dog before class.
You will need the following equipment to participate in this class: Harness, 6-8′ leash, High value treats (no crunchy treats)
Only 6 dog/handler teams will be accepted into each class.  Class 1 will meet from 7:00 – 7:45PM.  Class 2 will meet from 7:45 – 8:30PM each Wednesday evening of Session 2.  Contact DOTC Registrar, Robin Graham, to get signed up for this class (RLGraham56@aol.com).
---
---
Of Interest
Here's an article on an important topic:
Maryland's laws when a pet bites someone…
---
DOTC Snow/Weather Closing Policy
Classes are cancelled if evening classes/activities are cancelled for Carroll County Schools.
---
For more information on registration for classes:
Robin L. Graham, DOTC Registrar
2960 Duvall Road, Woodbine, MD 21797
410-615-9704   |   RLGraham56@aol.com

Gail Phillips, DOTC President
gail.m.phillips@comcast.net
---
Please remember DOTC Accepts ALL dog breeds…